Enjoy a vibrant and nutritious dinner with this healthy, quick and easy baked salmon in foil recipe. Perfect for week nights yet impressive enough for guests, this dish features tender salmon fillets cooked to perfection with a medley of rosemary, lemon and parmesan. Baked salmon in foil packets ensures a flavorful, mess-free meal that's ready in less than 30 minutes.
Why Bake Salmon In Foil Packets?
Locks in Moisture: Wrapping salmon in foil seals in the juices, preventing it from drying out during the baking process. This method ensures a moist and tender piece of fish every time.
Infuses Flavor: Baking salmon in foil allows the fish to marinate in its own juices and any added herbs, spices, or sauces, resulting in a flavorful dish with every bite.
Easy Cleanup: Foil-wrapped salmon makes for easy cleanup as it prevents any oils or sauces from spilling onto your baking sheet or oven.
Even Cooking: The foil conducts heat well, helping the salmon to cook evenly throughout.
Meal Prepping: This method is perfect for meal prepping as individual foil packets can be made ahead of time and cooked when needed.
How To Add Flavor To Baked Salmon
My version is made with lemon, rosemary and parmesan. You could easily use the same cooking method with the following flavor combinations;
Lemon and Dill: Fresh slices of lemon, sprigs of dill, a drizzle of olive oil, salt, and pepper. This is a classic flavor combination for salmon.
Garlic Butter: Melted butter, minced garlic, parsley, salt, and pepper. You can add a squeeze of lemon juice for acidity.
Honey Mustard: A mix of honey, Dijon mustard, a bit of minced garlic, salt, and pepper for a sweet and tangy flavor.
Teriyaki: Homemade or store-bought teriyaki sauce, with optional additions of sliced green onions and sesame seeds.
Mediterranean: Sliced cherry tomatoes, olives, capers, sliced red onion, olive oil, lemon juice, salt, pepper, and a sprinkle of oregano.
Cajun Spice: Rub the salmon with a mix of Cajun spices (like paprika, onion powder, garlic powder, cayenne pepper, oregano, thyme, salt, and pepper) for a smoky, spicy flavor.
Maple Soy: Combine maple syrup, soy sauce, minced garlic, and a touch of sriracha for a sweet, salty, and slightly spicy profile.
Coconut Curry: A mix of coconut milk, curry powder or paste, minced garlic, and a squeeze of lime juice for an Asian-inspired twist.
Remember, when creating your own flavor combinations, balance is key. Try to have elements of sweetness, saltiness, sourness, and spice for a well-rounded flavor profile.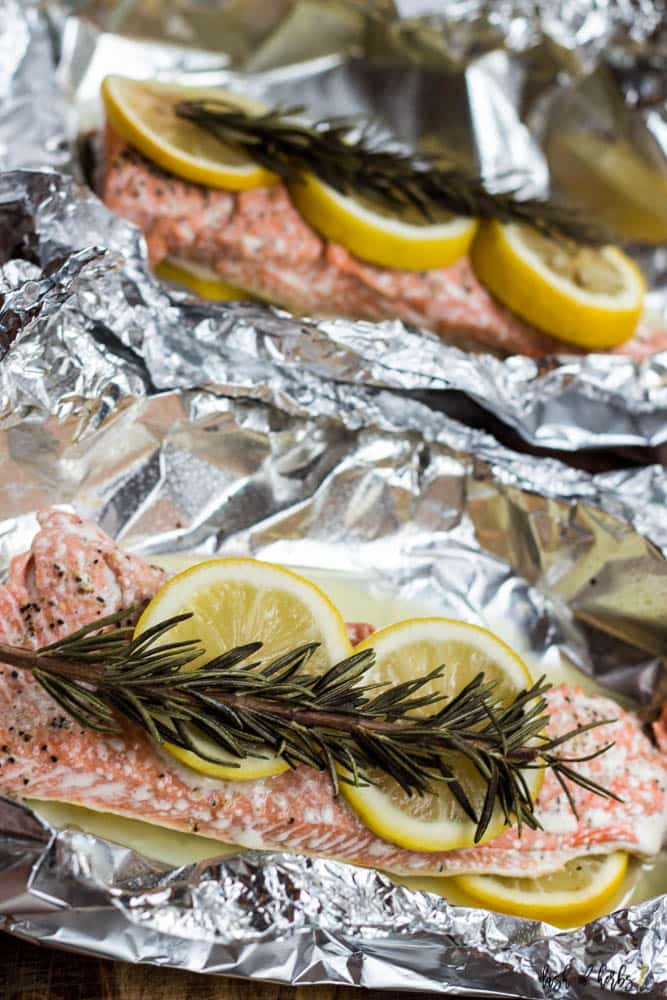 How To Bake Salmon In Foil Packets
Cooking tips for making your salmon in foil come out perfectly.
Preheat Your Oven: Preheating your oven ensures that the salmon cooks evenly and in the estimated time.
Use Heavy-Duty Foil: Heavy-duty foil is thicker and more durable than regular foil. It's less likely to tear, which is especially important when you're dealing with the juices from salmon.
Seal the Foil Packets Well: Make sure to seal the foil packets tightly to keep all the juices and flavors locked in. However, leave a little room for heat circulation within the packet.
Don't Overcook the Salmon: Overcooked salmon can become dry and tough. Generally, salmon needs about 20 minutes in a 350-degree Fahrenheit oven, but this can vary depending on the thickness of the fillet. The salmon is done when it flakes easily with a fork.
Let It Rest: Once you remove the salmon from the oven, let it rest for a few minutes before opening the foil. This allows the juices to redistribute throughout the salmon.
Check for Doneness: Salmon should be cooked to an internal temperature of 145 degrees Fahrenheit. You can check this with an instant-read thermometer. Personally I prefer my salmon to be juicy with a shiny texture to the flesh, so I take it out the oven a few minutes before the it reaches 145 degrees.
Include Vegetables: For a complete meal, add quick-cooking vegetables, such as bell peppers, zucchini, or asparagus, in the foil packet along with the salmon.
Remember, the key to a successful foil packet salmon is balancing the flavors and ensuring it's not overcooked.
FAQs For Cooking Baked Salmon In Foil Packets
How long should I bake salmon at 350 degrees?
Fish is typically cooked after 20 minutes in a pre-heated 350 degree oven. But temperatures vary, so make sure to check that the fish is done before serving.
You can also cook these over a camp fire for around the same time.
How long can I keep cooked salmon in the refrigerator?
Cooked salmon can be safely stored in the refrigerator for up to 3 days. Make sure to store it in an airtight container to maintain its freshness and prevent it from drying out. If you need to store it for a longer period, consider freezing the cooked salmon; it can last in the freezer for up to 6 months when properly stored in airtight, freezer-safe containers or bags. To use, thaw it in the refrigerator overnight before reheating.
Do not freeze any cooked fish which has been previously frozen.
Should You Use Wild or Farmed Salmon?
This is down to your personal choice, health considerations and budget but both can be cooked in the same way in this recipe.
If you are interested in other salmon entrees, I highly recommend this honey salmon recipe or this simple salmon salad.
Baked Salmon In Foil Packets
Easy, nutritious dinners are a critical part of our household success.  When recipes get difficult, I won't cook them.  This baked salmon in foil packets recipe is so easy and perfect for a quick and healthy dinner.
Ingredients
1

pound

salmon

wild caught

1/4

cup

Parmesan cheese

grated

2

lemons

sliced

2

sprigs rosemary

salt and pepper

Heavy aluminum foil

olive oil spray
Instructions
Heat the oven to 350 degrees

Sprinkle salt and pepper on the salmon fillets. Disperse the Parmesan cheese over both of the salmon fillets.

Spread out some aluminum foil. Spray the middle of the foil with olive oil spray.

Put 3 lemon slices on the bottom of each foil sheet. The put the salmon on top with 3 more lemon slices and a sprig of rosemary. If you wish, you could add some quick cooking veggies such as sliced zucchini or asparagus.

Fold the foil into a packet so that no juice can escape while cooking. Make sure to leave some room for air to circulate in the foil packet.

Place the foil packets in the oven (you can use a cookie sheet if you want) and bake for 20 minutes.  Remove from the oven and let them rest for a couple of minutes and then serve immediately.
Nutrition
Calories:
402
kcal
Carbohydrates:
10
g
Protein:
51
g
Fat:
18
g
Saturated Fat:
4
g
Polyunsaturated Fat:
6
g
Monounsaturated Fat:
6
g
Cholesterol:
133
mg
Sodium:
302
mg
Potassium:
1272
mg
Fiber:
3
g
Sugar:
3
g
Vitamin A:
212
IU
Vitamin C:
57
mg
Calcium:
203
mg
Iron:
3
mg