During the hectic mornings, it's difficult to make sure you eat a healthy breakfast. Those donuts and sugar-filled cereals make it hard. Below are 10 healthy breakfasts you can enjoy during busy weekdays.
Because we all know weekdays are hard enough…we don't need the added stress of worrying if my breakfast is healthy or not.
You have probably heard most of your life how important breakfast is. Everyone tells you how important it is, but it's also sometimes hard to eat a healthy breakfast or remembering to eat breakfast at all.
When I actually eat breakfast in the mornings, I make better food choices throughout the day.
I know there are days that I forget to eat breakfast. I have my coffee and sometimes that's enough. But when I don't eat breakfast, I want to eat everything in sight for the rest of the day.
5 tips to help you remember to eat breakfast:
Set a daily alarm. This might sound silly, but it's really helped me to remember to eat breakfast each morning. I usually set mine anywhere from 9am – 10am.
Make breakfast first thing after you wake up. This has helped me in the past remember to eat breakfast. If it's the first thing I do after I wake up, I'm more inclined to eat well and get a healthy mindset for the day.

Prep ahead of time.

Sometimes I need a quick grab and go breakfast to eat in the car. But that usually requires some prep ahead of time. When I'm pressed for time, this ensures that I eat well in the car and on the go.

You don't necessarily have to be hungry to eat breakfast. Some mornings, I'm not hungry after my coffee. But I still have breakfast because I know it will set me up for a successful day. If I wait until I'm hungry, it's usually closer to lunchtime and I've missed my breakfast window.

It doesn't have to consist of eggs. This concept is newer to me, but breakfast doesn't mean bacon and eggs. You can have avocado toast, or muffins of any variety. Eggs are a great source of protein, but you don't need them all the time for breakfast.
Of the tips I shared above, I think one of the most important ones is the daily alarm. This has been a game changer for me because it reminds me (subtly) that I need to eat breakfast.
And it's so easy because it's automatically done from my phone. I can set it up to be a weekday (or every single day) recurrence and that truly helps me to stay on track.
Another big change that I have implemented is prepping and planning ahead. I lay out our dinner menus each week and we shop for groceries on Saturday mornings. But I'm also trying to plan and cook breakfasts ahead of time too.
With the cost of groceries increasing, I find that the frozen breakfasts are getting a bit expensive. And when I know I can usually make something for 1/2 the cost, it just makes sense.
I don't always meal prep breakfasts over the weekend, but when I do, I know I have a healthy breakfast to enjoy during the week.
Again, meal prepping isn't for everyone, but it has helped me tremendously to cook dinners consistently and to not bring too much junk into the house.
Below are 10 healthy breakfasts for busy weekdays:
Turkey Sausage and Spinach Mini Quiches
If you have a few minutes in the morning, you need to make these turkey sausage and spinach mini quiches.  You can prep everything ahead of time and just pop them in the oven in the mornings…then grab and go.  
These mini quiches are so tasty too – with turkey sausage, spinach and cheese…they are delightful.
Turkey Sausage and Spinach Mini Quiches Recipe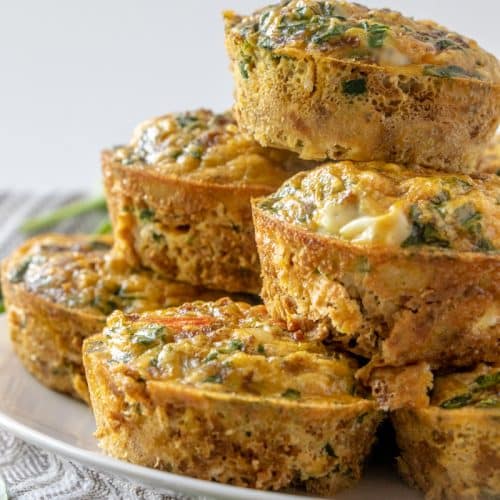 Whole Wheat Lemon Blueberry Pancakes
Breakfast doesn't have to mean spending hours in the kitchen.  These whole wheat blueberry lemon pancakes are great to make ahead over the weekend and freeze for quick and easy breakfasts during the week.  
Whole Wheat Lemon Blueberry Pancakes Recipe
Skinny French Toast Muffins
 Breakfast foods can get boring when you are on a diet, but they don't have to be.  These skinny french toast muffins are fantastic, healthy and perfect for a grab and go breakfast.  
Skinny French Toast Muffins Recipe
Low Fat Lemon Pancakes
If you are craving breakfast food and want pancakes without the guilt, these low-fat lemon pancakes are exactly what you are looking for.  They only have 1g of fat total in them, and they don't taste like anything low-fat.
Low Fat Lemon Pancakes Recipe
Southwest Breakfast Bowls
Breakfast doesn't have to be something that you have to stress over.  These southwest breakfast bowls can be prepped ahead of time and heated up in the microwave for a quick and easy breakfast that will keep you full for hours.  
Southwest Breakfast Bowls Recipe
Breakfast Hash Brown Skillet
Make your life a little easier by making this easy breakfast hash brown skillet over the weekend, and then you can quickly heat it up each morning during the week.  
It's easy to make and hearty to keep you full all morning long.  And your whole family will love it.  This recipe is 9 Freestyle Points per serving on Weight Watchers.
Breakfast Hash Brown Skillet Recipe
Strawberry Banana Overnight Oats
Do you struggle to put together a quick and healthy breakfast?  This strawberry banana overnight oats recipe is perfect for those mornings when you are on the go and don't have time to cook a full blown breakfast.  And this recipe is only 4 SmartPoints per serving.
Strawberry Banana Overnight Oats Recipe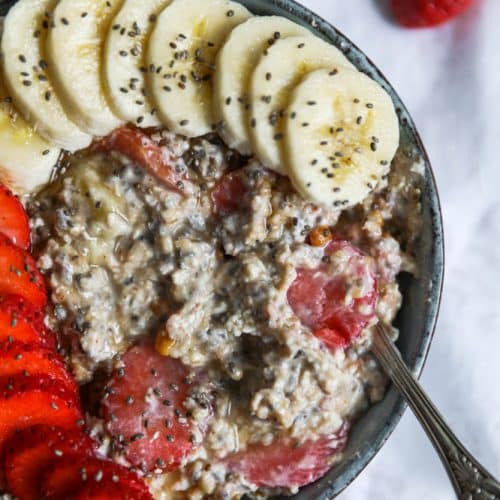 Stuffed Apple Cider Muffins
When the leaves start to change colors, you know it's time for all the apple cider kinds of foods.  These stuffed apple cider muffins are everything you have ever imagined.  They are stuffed with apples, contain delicious apple cider, and are only 3 SmartPoints per muffin.
Stuffed Apple Cider Muffin Recipe
Strawberry Oatmeal Protein Smoothie
Breakfasts don't have to be challenging or difficult. This strawberry oatmeal protein smoothie is such a quick and easy breakfast that will keep you full for a while. It's a great kid-friendly way to help kids get the protein they need.
Strawberry Oatmeal Protein Smoothie Recipe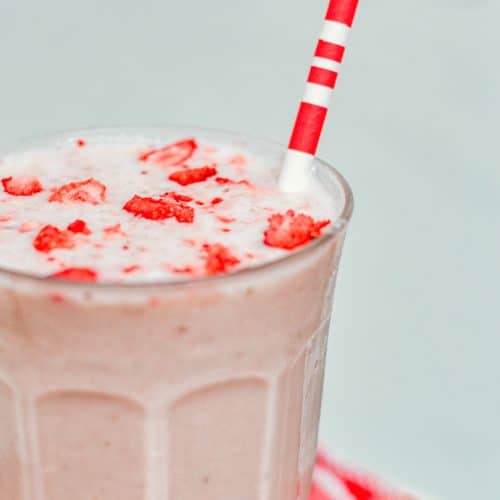 Easy Eggs in a Mug
If you are wanting to cook breakfast for only yourself, try these eggs in a mug recipe.  It's a really easy breakfast recipe for 1 person that's packed with protein and so simple to make.
Easy Eggs in a Mug Recipe
More Breakfast Recipes
If you are interested in other Breakfast recipes, click the link below. You will be able to search the archives for any Breakfast Recipe from Dash of Herbs.