If you crave a creamy pasta dish, you need to try this delicious creamy Bruschetta chicken pasta recipe. This dish is quick to make and will please your whole family. This recipe is 4 Freestyle points per serving, 1 cup.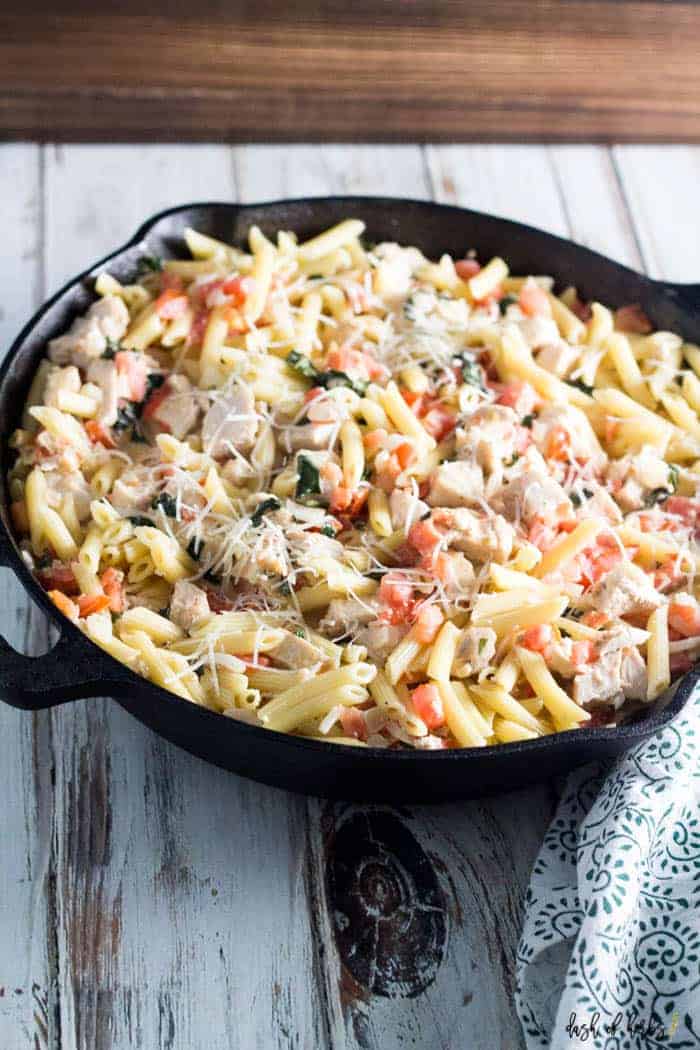 Whew- returning from a 10 day vacation is much more difficult than I could have ever imagined. Ever feel that way?
I am having a hard time getting back in the groove of things, but I have to admit that I loved being fairly unplugged during our European vacation.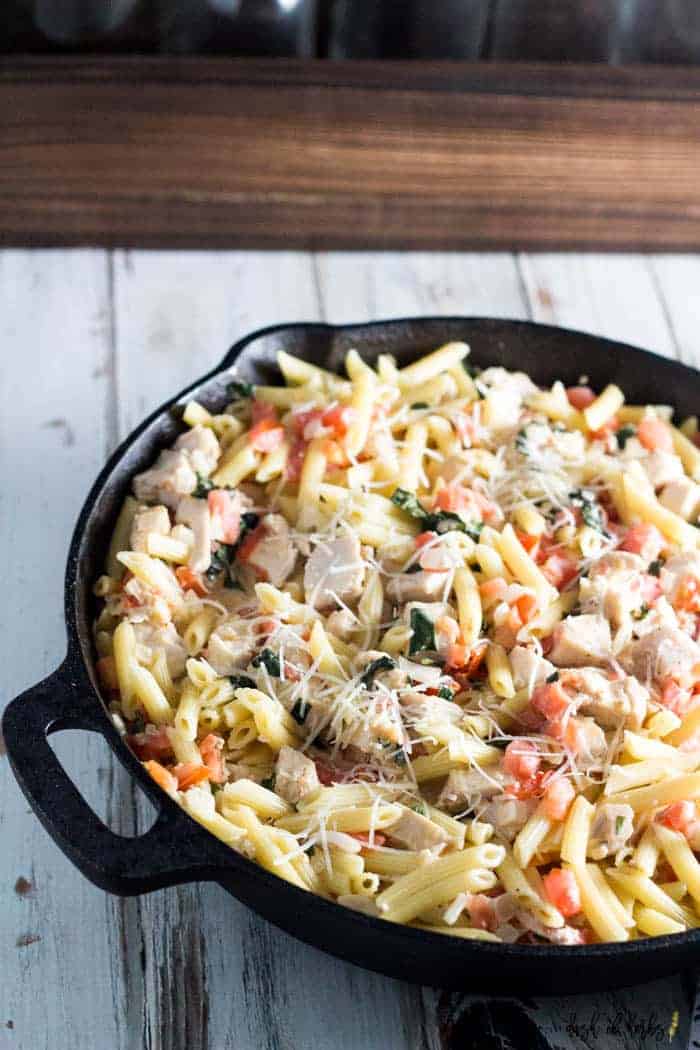 The struggle has been real to get back on track and back on a normal schedule.  We ate out A LOT when we were overseas, so getting back in the groove has been a bit of a challenge.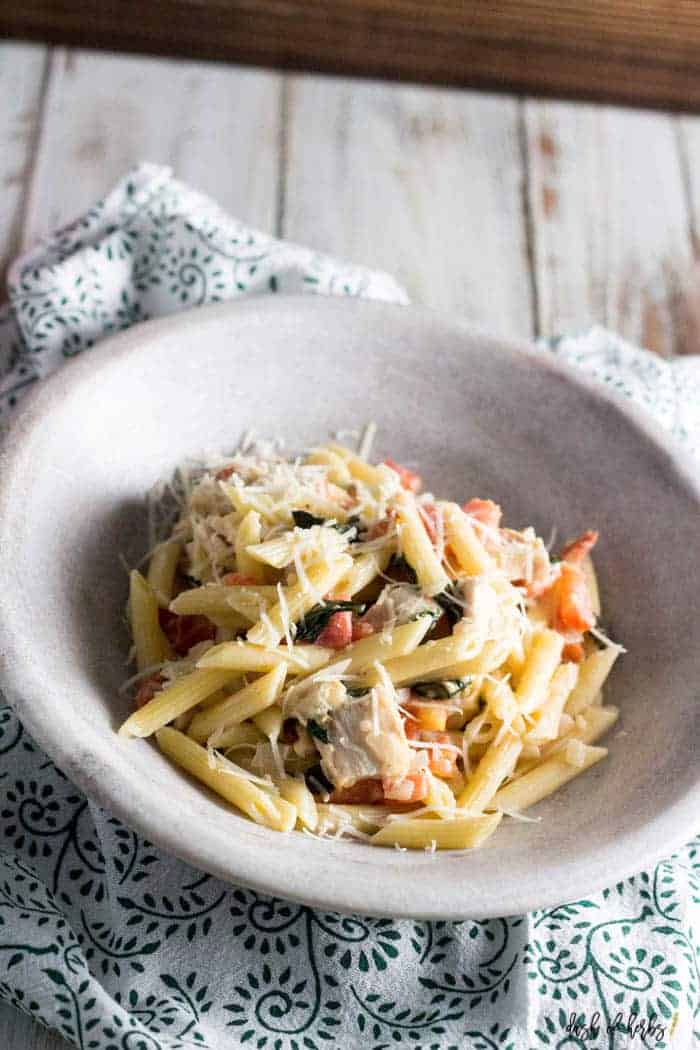 I also think I will have to start tracking my calories again since I am over my goal weight – most of it is from the vacation, but I do want to get it back under control before it balloons into something bigger.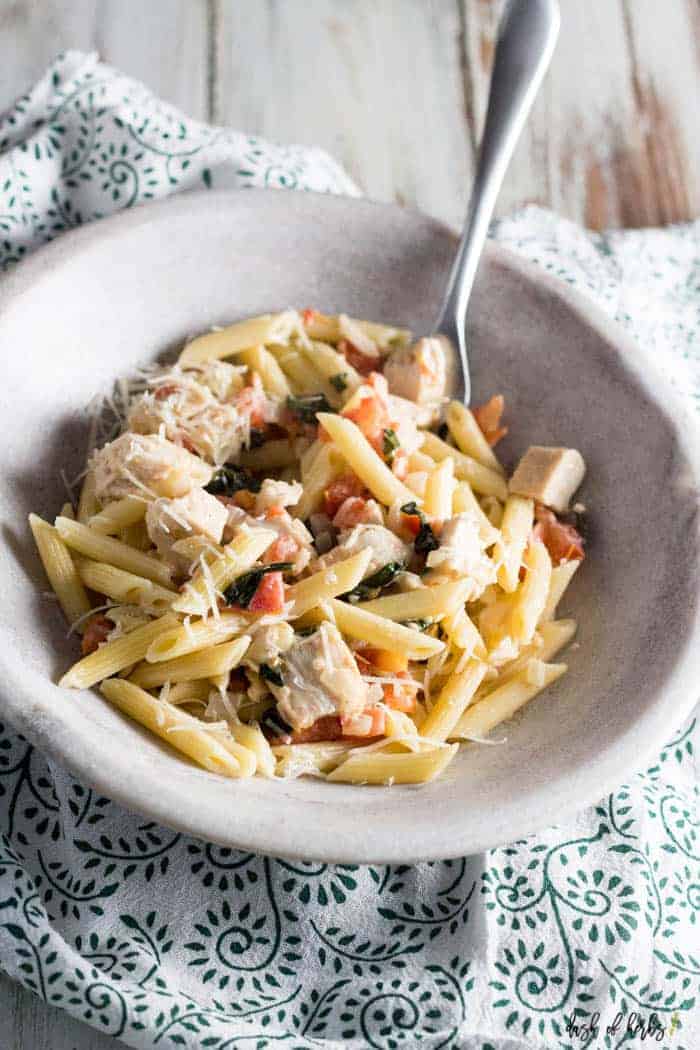 To help get myself back on track, I created this delicious creamy Bruschetta chicken pasta recipe. This recipe is packed with flavor and pretty easy to make.
This recipe does use multiple pots and pans, but it's so worth it. The creaminess of this recipe is what you have been waiting for.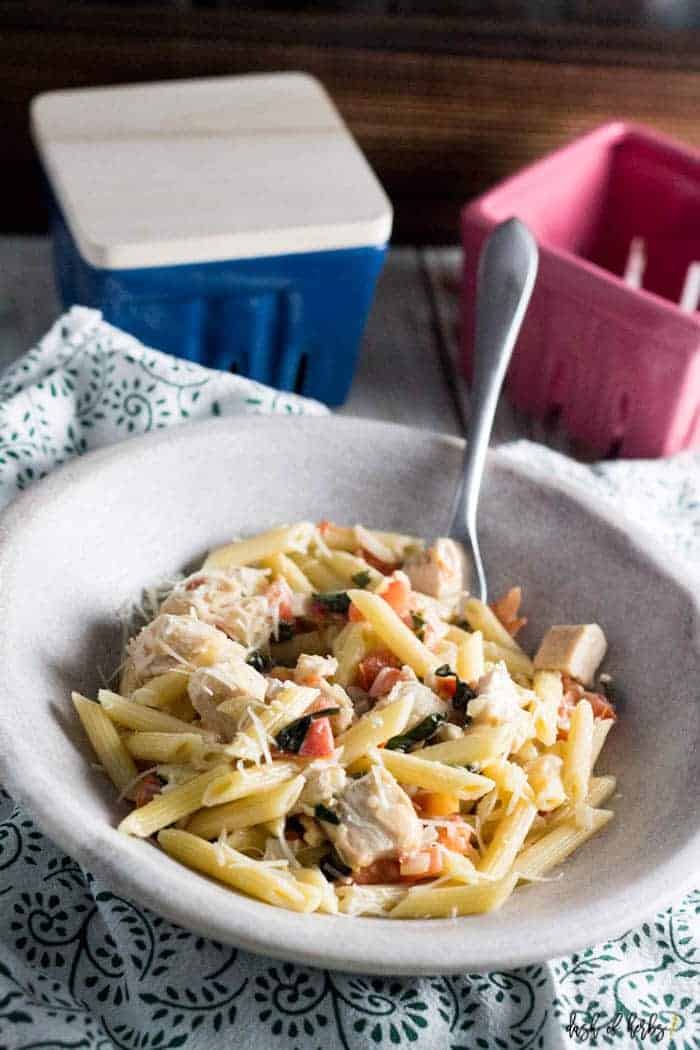 Jeremy loved this recipe so much that he asked for it during our trip – so I will be remaking this soon. If you are interested in other pasta recipes, try this vegetable lasagna recipe.
What are your favorite pasta recipes?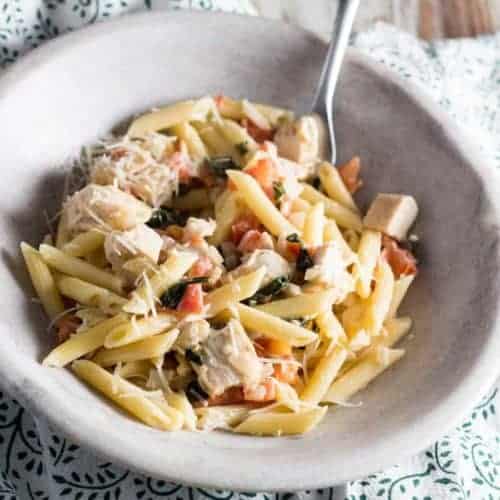 Creamy Bruschetta Chicken Pasta
This recipe is 4 Freestyle points per serving, 1 cup.
Ingredients
2

Tablespoons

olive oil

divided

1

pound

boneless chicken breasts

butterflied

1/2

medium

yellow onion

chopped

1

Tablespoon

minced garlic

6

ripe

Roma tomatoes

chopped

1

cup

basil

chopped

1/2

cup

fat-free half and half

1

cup

Parmesan cheese

grated

1

cup

Penne pasta

uncooked
Instructions
Cut the chicken breasts in half lengthwise. Set them aside.

Cook the penne pasta according to the package directions. Drain and set aside.

Heat a cast iron skillet over medium heat. Add 1 Tablespoon of the olive oil and add the butterflied chicken breasts. Fry in the oil until fully cooked, flipping once about 10 minutes. Set the chicken aside to cool down. Then chop.

Heat the remaining 1 Tablespoon of olive oil. Add the onion and garlic and cook until fragrant, about 5 minutes. Add the tomatoes, basil and cooked chopped chicken. Cook until the basil begins to wilt.

Add the cream, grated Parmesan cheese and the cooked pasta and stir to combine. Raise the heat to high and allow to boil for about 5 minutes, stirring constantly. Add salt and pepper to taste. Serve immediately.
Notes
You can use 1/4 cup regular heavy cream if you can't find the fat-free version at your grocery store.  This will adjust the SmartPoints value for this recipe, so please recalculate it.
Nutrition
Calories:
241
kcal
Carbohydrates:
12
g
Protein:
18
g
Fat:
12
g
Saturated Fat:
4
g
Cholesterol:
45
mg
Sodium:
252
mg
Potassium:
216
mg
Sugar:
1
g
Vitamin A:
310
IU
Vitamin C:
1.1
mg
Calcium:
178
mg
Iron:
0.8
mg