Craving chicken tenders? Try this oven baked crispy panko chicken nuggets recipe for a twist on one of my all time favorite meals.
Before getting back on the Weight Watchers train (I'm actually counting points again and it's really been going great), you could find me in a fast food drive-through.
Let me tell you, the Chick-fil-A near our house was always on my short list of places to go grab a quick bite to eat.  Just ask my husband.  
But I realized something, I can make those little chicken nuggets or chicken tenders healthier than they can.  
And they taste pretty darn good too. I loved that I made these kid friendly too – and what kid doesn't love chicken nuggets.
The secret? I use panko as my breading because it's healthier than traditional breadcrumbs. On Weight Watchers, panko and traditional breadcrumbs are actually the same SmartPoints value (3 SP for 1/4 cup).
But I like panko better – you use less of them than you would traditional breadcrumbs.
Since I recently had my "oh-shit" moment on the scale at our new house, I have made an effort to start counting points again. I have tried and failed so many times, but I know that this time will be different.
I am in control of my cravings by snacking throughout the day. If I feel myself getting hungry, I grab whatever I packed in my lunchbox.
I want to give a huge shout-out to my husband who packed my snack bag today – he did great by giving me fruits, hummus, a few crackers and a cheese stick. I haven't even eaten it all yet.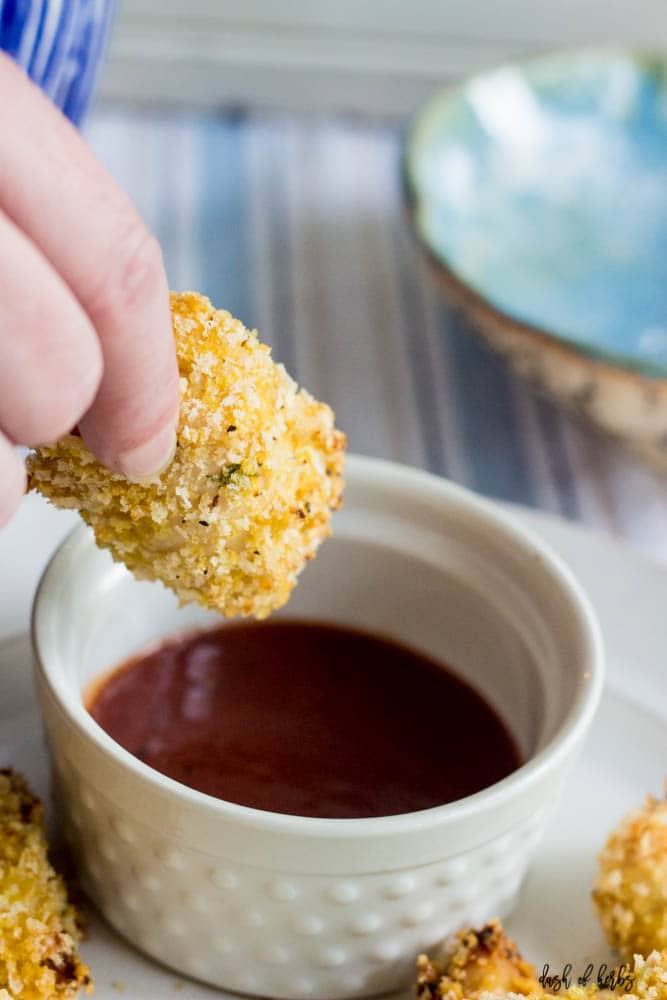 I've also realized something I don't think I knew before. Losing weight and becoming healthy is so much more of a mental game and challenge than it is actually eating healthy. At least it is for me.
I have to start by making the right choices, or knowing what I am going to eat before I can be tempted by bad food. And it's been working pretty well.
Before we moved, I wanted chicken fingers (I still want them, to be honest).  But I didn't want all the grease that comes with them.  So, I decided to bake them instead and I loved them.  Truly loved them.
These little boogers are so good and so worth cutting up chicken for (which I absolutely hate). My husband loved these as well – he loves fried food – so I call that a complete win!
Oven Baked Crispy Panko Chicken Tenders
This recipe is 6 SmartPoints per serving, 4 chicken nuggets.
Ingredients
4

garlic

minced

1

Tablespoon

fresh thyme

minced

1/2

cup

panko breadcrumbs

1

lemon

zested

1

Tablespoon

light butter

melted

1/8

cup

honey mustard

1/3

cup

red wine

Pinot Nior

1

lb

boneless chicken breasts

cut in small pieces
Instructions
Preheat the oven to 350 degrees.

In a food processor, add the panko, lemon zest, olive oil, garlic, thyme, pinches of salt and pepper and the butter. Place the mixture on a plate.

In a small bowl, whisk together the honey mustard and red wine. Place on another plate.  Dip the chicken pieces in the honey mustard-wine mixture and then in the panko mixture. Turn to coat completely.

Bake the chicken pieces for 20 minutes, until cooked through.
Nutrition
Calories:
294
kcal
Carbohydrates:
15.5
g
Protein:
26.5
g
Fat:
13.1
g
Saturated Fat:
4.3
g
Cholesterol:
76.3
mg
Sodium:
174.2
mg
Fiber:
1.5
g
Sugar:
1
g