If you are wanting to cook breakfast for only yourself, try these eggs in a mug recipe. It's a really easy breakfast recipe for 1 person that's packed with protein and so simple to make.
These are only 1 Freestyle point per serving.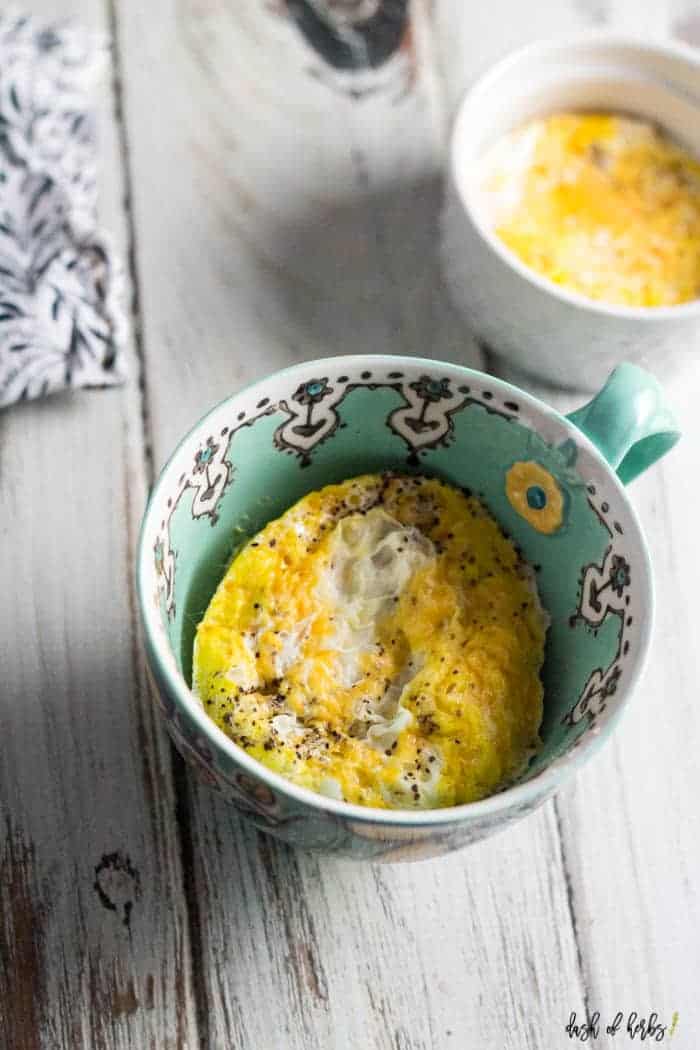 How many of you eat breakfast? If you do, great! You are one step closer to a healthy lifestyle.
If you don't, did you know that eating breakfast every morning actually means you will eat less throughout the day?
When I am in the office, I eat breakfast every morning (2 chicken sausage patties and some eggs from work), but when I am at home, I struggle to eat anything after I wake up.
I always have coffee in the mornings, so this helps me curb the cravings and food pangs.
But I can tell you from personal experience that when I don't eat breakfast in the mornings, I make terrible food choices throughout the day.
Maybe the choices aren't terrible, but they could always be better. And I need quick and easy meals.
Breakfasts for just one person are even more challenging. Making muffins is great and all, but eating those for 6-12 days straight doesn't always work out.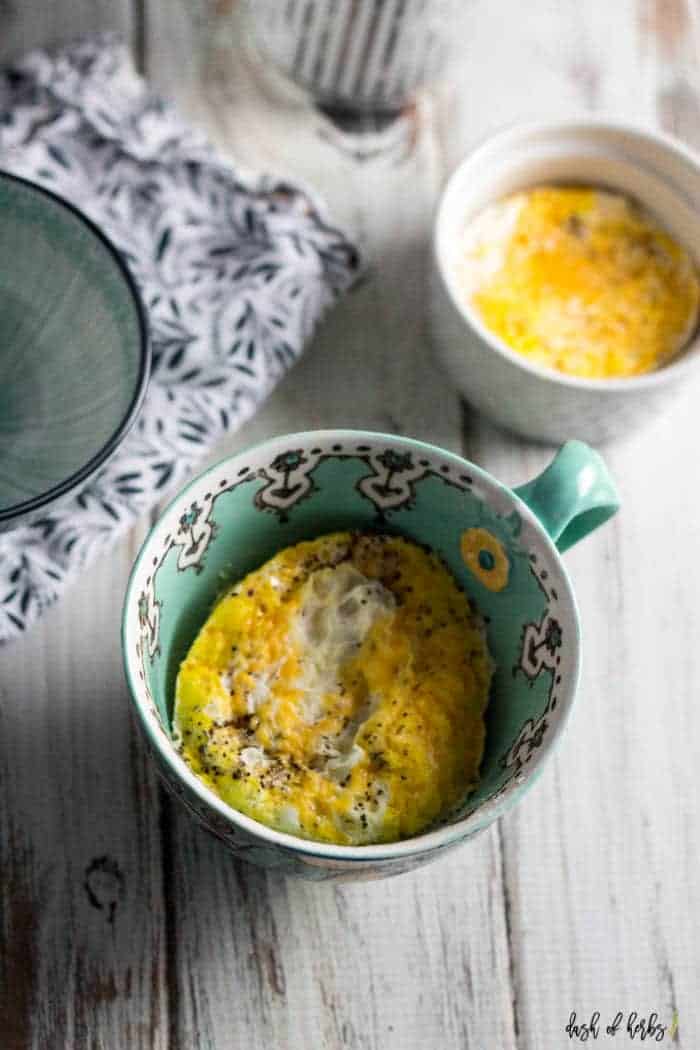 Do you have eggs and cheddar cheese in your refrigerator? Then you have no excuses to make this super simple recipe during those hectic weekday mornings.
This easy eggs in a mug recipe is perfect for just one person and takes only about 2 minutes to throw together.
If you are interested in additional breakfast recipes, you should try this strawberry oatmeal smoothie or this southwest breakfast bowls.
* Cooking time will vary based on your microwave.
What are your quick go-to breakfast recipes?
Easy Eggs In A Mug
This recipe is 1 Freestyle point per serving, 1 mug.
Ingredients
2

large

eggs

1/2

teaspoon

salt

1/4

teaspoon

pepper

1

Tablespoon

cheddar cheese

shredded (optional)
Instructions
In a mug, crack the eggs. Mix with a fork. Add the salt and pepper and cheese (if using). Mix well and place in the microwave. Cook for about 1 minute or until the eggs are cooked to your liking. Serve immediately.
Notes
Cooking time will vary depending on your microwave.
Nutrition
Calories:
207
kcal
Carbohydrates:
1.4
g
Protein:
16.4
g
Fat:
14.8
g
Saturated Fat:
6.1
g
Cholesterol:
387.9
mg
Fiber:
0.2
g
Sugar:
0.4
g