When you need a quick and easy side dish to satisfy your family, try this easy potato and broccoli mashup. It's really quick to throw together and would please a crowd or picky family members.
I thought I would spend today sharing 5 random facts about me that you probably don't know. I don't know why, but I love posts like this.
I think it just opens us up more and allows readers the opportunity to relate to us a little bit. Call me crazy, but I love that.
Random Fact #1:
In 2014, I married my best friend. We had a wonderful wedding, and a great party, and I am so grateful to call him my husband.
And it's so fun that we get to start the newest chapter of our lives by picking out our house together for the first time.
Random Fact #2:
In 2008, I almost died. I somehow contracted bacterial meningitis (I still don't know how I got it) and I ended up spending 3 days in the ICU and 3 days in a regular hospital bed.
It took me about 2 weeks to completely recover from it and head back to work. I was so lucky and fortunate that I listened to my body and realized something wasn't right before it was too late.
The story is very interesting if you are me, but probably not so much for you guys, so I won't share all the details. I survived, and that is enough.
Random Fact #3:
I would love to become a writer one day. I know my writing needs a lot of work, but I have a dream of publishing a book (or just writing it…publishing it would be icing on the wonderous cake). More to come if this actually happens.
Random Fact #4:
I own our current townhouse style condo. I bought our house in 2011, before Jeremy and I got serious. It was near my sister and her husband, and they really wanted me to live near them.
Like they really wanted me to move next door. Yep, I lived about 20 steps away from my sister and her husband. Now they have moved a little bit further away, and it's our turn to move on as well.
Random Fact #5:
Cooking and coming up with recipes does not come naturally to me. I seek a lot of inspiration before I create a new recipe and that is evident in this potato and broccoli mashup.
I wanted a simple side that would work well for any of the main dishes (I think this would be wonderful with the sweet and spicy mini meatloaves).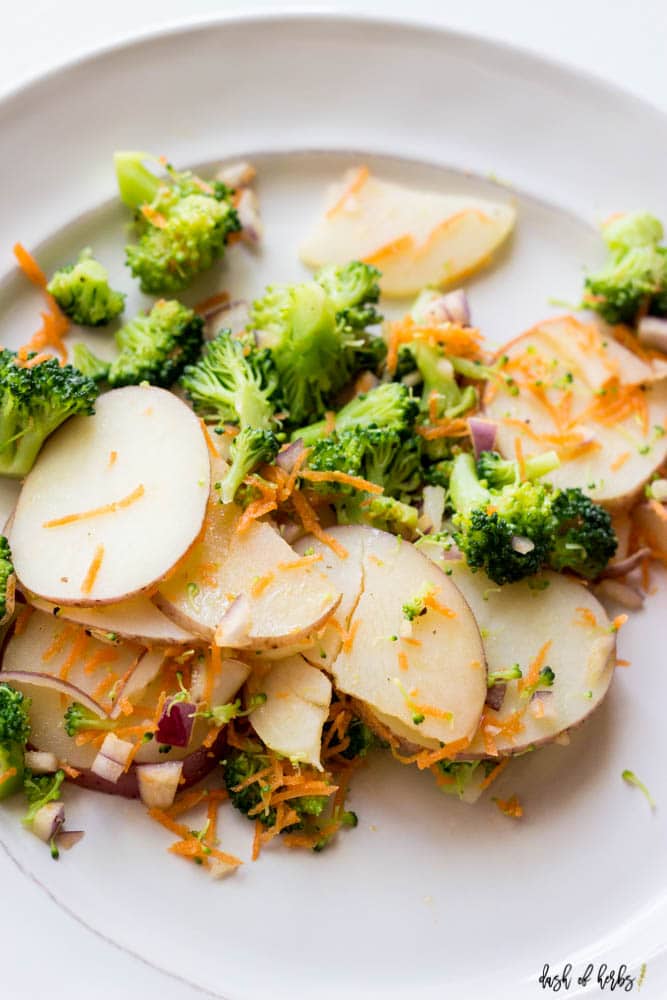 Cooking has become a passion of mine – and photographing recipes for this blog. I love being able to create different recipes, side dishes and desserts that people would enjoy with their families.
If you are interested in additional vegetarian recipes, I highly recommend trying this roasted vegetable couscous recipe or this vegetarian pasta primavera.
This mashup side dish is no different. I wanted something interesting and something that would be quick to throw together. So, this recipe was born.
PS – go easy on the red onions…they are potent and you don't need many of them unless you love red onions.
Easy Potato and Broccoli Mashup
This recipe is 3 SmartPoints per serving, 1 cup.
Ingredients
2

medium

red skinned potatoes

sliced thin

1

medium

carrot

shredded

1

head

broccoli florets

chopped

1

Tablespoon

olive oil

salt and pepper

1/8

teaspoon

cumin

red onion

finely chopped (optional)
Instructions
Bring a medium pot to a boil. Add the potatoes and cook until tender, about 5 minutes. Remove the pot from heat and take out the potatoes using a slotted spoon and set aside.

Using the same pot with water, cook the broccoli florets until they are bright green, about 4 minutes. Drain.

In a medium bowl, mix together the potatoes, broccoli, red onion (if using) and carrots. Add the olive oil and cumin. Mix together. Serve immediately.
Nutrition
Calories:
170
kcal
Carbohydrates:
30.2
g
Protein:
6.6
g
Fat:
4.1
g
Saturated Fat:
0.6
g
Sodium:
67.3
mg
Fiber:
6.7
g
Sugar:
4.1
g