Just because you are working on losing weight doesn't mean you can't have a delicious treat too. These healthy baked pumpkin spice donuts are not only delicious but also 5 Freestyle points per donut.
They don't even taste like they are "diet" food – so you won't feel like you are missing out on anything.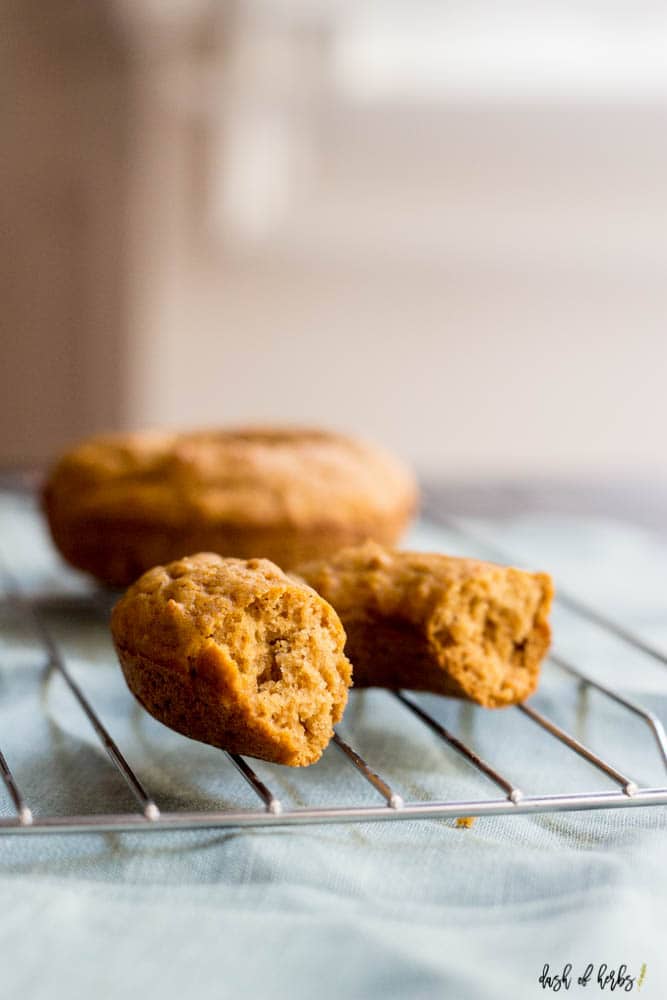 True story:  my husband is a huge lover of donuts.  He has been begging me to come up with a healthy donut recipe so that he can eat them all himself.
Also – kids LOVE donuts, and these are fantastic and kid friendly.
I was reluctant because I didn't think it could happen. As much as I love to eat a donut, I know they just aren't typically associated with being healthy.
But I was wrong! It can be done and thank goodness for that. These healthy baked pumpkin spice donuts are easy to make and don't taste like they aren't your typical donut.
I personally liked them without any icing or glaze on them, but you can definitely add that if you wanted to.
The best thing, in my opinion, about Weight Watchers is that you can eat foods you love and still lose weight. So, in theory, donuts aren't that bad.
Everything in moderation though.  But I have to say that I love having a little bit of sweetness after dinner and these donuts are perfect.  
Knowing that one donut is only 5 Freestyle points, means that I can have 1 donut and not feel guilty about it.
Let's talk about that guilt for a minute. Sometimes I feel guilty about the sweets I eat (like this apple-peach crumble or this chocolate souffle), but these aren't on that list.
The guilt is real though! I always feel bad knowing I'm eating something sweet that I probably shouldn't be eating. But, I don't eat the whole thing. Yesterday, I ate only 1/2 a piece of chocolate cake.
I still enjoyed myself, but I didn't eat more than I should. I can't say no to desserts – especially for someone's birthday – and I know that guilt feeling can happen…but it doesn't have to be that way!
What is your favorite dessert recipe?
Healthy Baked Pumpkin Spice Donuts
This recipe is 5 Freestyle points per serving, 1 donut.
Ingredients
1

cup

all-purpose flour

1

teaspoon

cinnamon

1

teaspoon

nutmeg

1

teaspoon

salt

1

teaspoon

baking powder

1

Tablespoon

pumpkin spice

1/2

teaspoon

baking soda

1/3

cup

brown sugar

3/4

cup

pumpkin puree

1/4

cup

Almond milk

1

egg

1 1/2

teaspoon

Avocado oil

1

teaspoon

vanilla extract
Instructions
Preheat the oven to 350 degrees

In a medium bowl, combine the flour, baking powder, baking soda, cinnamon, pumpkin spice, nutmeg, and salt. In another bowl, mix together the wet ingredients: brown sugar, egg, Almond milk, pumpkin puree, avocado oil, and vanilla.

Add the wet ingredients to the dry ingredients and mix well to combine.

In an olive oil sprayed donut pan, add the dough you mixed together earlier. Bake for about 20 minutes or until a toothpick comes out clean.

Frost, if desired, with cream cheese, sugar and vanilla.
Notes
If you frost the donuts, it will affect the Freestyle points value.
Nutrition
Calories:
144
kcal
Carbohydrates:
27.3
g
Protein:
3.5
g
Fat:
2.3
g
Saturated Fat:
0.6
g
Cholesterol:
26.7
mg
Fiber:
1.9
g
Sugar:
9.1
g