Looking for a treat that's tasty, healthy and easy to make? This peanut butter cookie recipe uses oats instead of flour and are so delicious to eat. Made with natural ingredients, these cookies offer a guilt-free way to satisfy your sweet tooth while keeping nutrition in mind.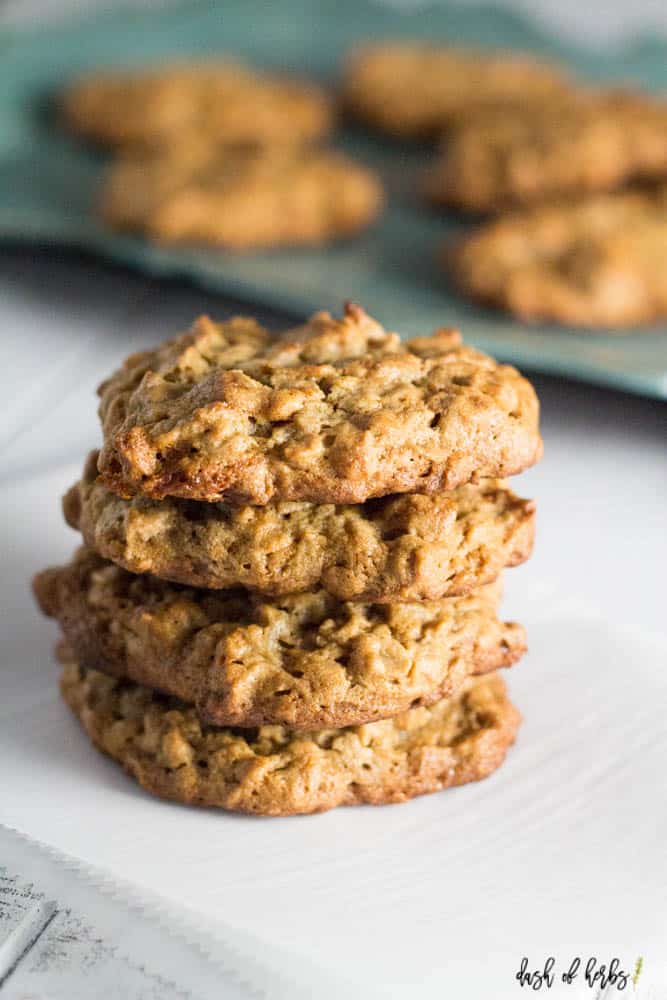 What Makes These Peanut Butter Cookies Healthier?
Creating a recipe for healthy peanut butter cookies was not without its challenges! But substituting ingredients for better choices than those found in regular peanut butter cookie recipes, I've been able to maintain flavor and keep them more-ish.
This recipe uses oats instead of flour: Oats are a whole grain that is high in fiber, helping to promote healthy digestion and satiety. It also supports heart health and helps regulate blood sugar levels.
Peanut Butter Is a healthy protein Source: Peanut butter is an excellent source of protein, a macronutrient that helps build and repair body tissues, including muscles. Protein also helps to keep you feeling full longer.
Healthy Fats: Peanut butter provides a good amount of monounsaturated and polyunsaturated fats, which are considered heart-healthy fats. They can help reduce levels of "bad" LDL cholesterol and increase "good" HDL cholesterol.
Lower in Sugar: Compared to many other types of cookies, this recipe is made with less sugar.
Vitamins and Minerals: Oats and peanut butter are packed with essential nutrients like magnesium, zinc, Vitamin E, and B Vitamins which are necessary for the proper functioning of the body.
Energy Boosting: The combination of protein, fiber, and complex carbohydrates in oatmeal peanut butter cookies can provide a sustained energy release, preventing the energy crashes associated with consuming refined sugars.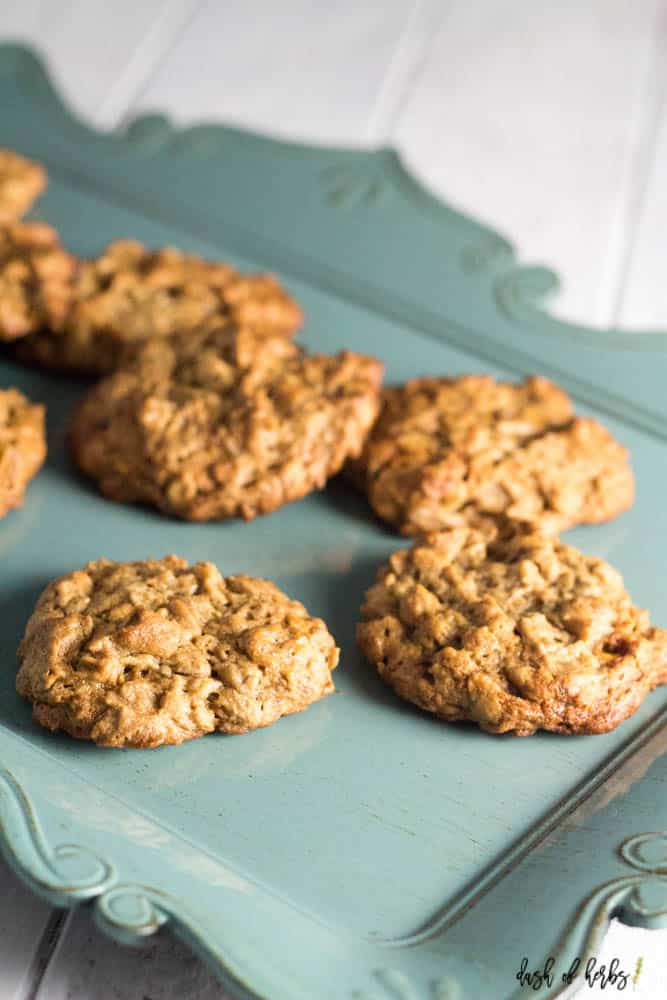 Ingredients For Healthy Peanut Butter Cookies
2 large eggs – To make this recipe vegan, substitute flax eggs (2 tablespoon ground flaxseed mixed with 5 tablespoons of water) for the eggs, and use maple syrup instead of honey. Allow the flax egg mixture to sit for 5 minutes before adding it to the cookie dough.
1/3 cup brown sugar – Brown sugar isn't necessarily healthier than white, but it does work better in baking.
1 teaspoon baking soda
1/2 teaspoon salt
1 teaspoon vanilla
3/4 cup peanut butter – I used creamy peanut butter, but you can also substitute another peanut butter alternative instead. I try to find peanut butter that has no added sugar and doesn't use palm oil. Aldi sell a good one. You could substitute peanut butter for almond, sunflower or cashew nut butter in this recipe
3/4 cup old fashioned oats – otherwise known as rolled oats in the UK or whole oats
2 Tablespoons honey – You could use maple syrup instead
1 teaspoon water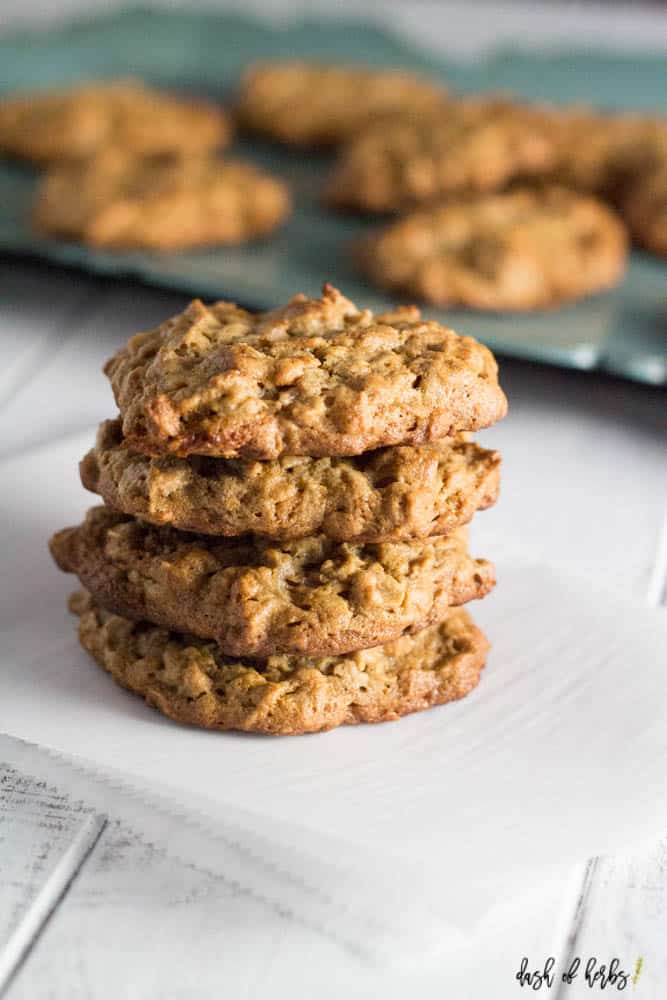 Baking Instructions
Making peanut butter cookies could not be easier!
Mix the ingredients in a large bowl and and use a cookie scoop to spoon out onto a parchment lined sheet. Bake at 350 degrees for 10-12 minutes
Note: the "dough" will look fairly wet, but the cookies cook up nicely and get golden brown.
Recipe Variations
There are plenty of ways to add some variety and change things up with this recipe.
Add some chocolate chips to the mix
You can add dried banana chips which will give them a chewy texture and add some natural sweetness.
Swap out the salt for miso paste. You'll be surprised at the umami earthy flavor it adds.
Add a couple of ground tablespoons of ground flaxseed to the mix and reduce the oats by the same amount. So much extra goodness in such an easy swap!
If you love peanut butter as much as I do, try these peanut butter snack balls or my peanut butter syrup for your coffee.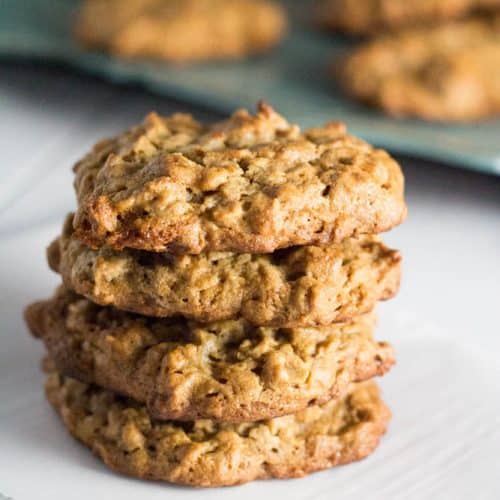 Healthy Peanut Butter Cookies
 If you are craving something sweet, you will need to try these healthy peanut butter cookies.  They use oats instead of flour and are guilt-free at just 120 calories.
Ingredients
2

large

eggs

1/3

cup

brown sugar

1

teaspoon

baking soda

1/2

teaspoon

salt

1

teaspoon

vanilla

3/4

cup

peanut butter

3/4

cup

old fashioned oats

2

Tablespoons

honey

1

teaspoon

water
Instructions
Preheat the oven to 350 degrees.

In a large bowl, mix together all the ingredients into a "dough". Spoon out onto a cookie sheet that has been lined with parchment paper. Bake 10-12 minutes or until golden brown.
Notes
The dough will look runny, but it will bake nicely.
Nutrition
Calories:
120
kcal
Carbohydrates:
11
g
Protein:
4
g
Fat:
6
g
Saturated Fat:
1
g
Cholesterol:
23
mg
Sodium:
207
mg
Potassium:
106
mg
Fiber:
1
g
Sugar:
7
g
Vitamin A:
35
IU
Calcium:
14
mg
Iron:
0.5
mg