Did you know seafood is not only good for you, but low in Freestyle points on Weight Watchers? These seared scallops with garlic mashed potatoes will blow your mind.
The mashed potatoes are real – yes, real potatoes and creamy with the addition of half and half and Almond milk. The scallops are delicious and tender…the perfect combination.
We don't eat enough seafood in our diet. And I can't tell you why that is. I think I just don't think about it when I am meal planning, but I really wish we ate more. Why?
Because they are low in Freestyle points and healthy. We have loved this amazing tarragon shrimp with parmesan risotto and some other shrimp recipes, but I haven't cooked much fish or other seafood.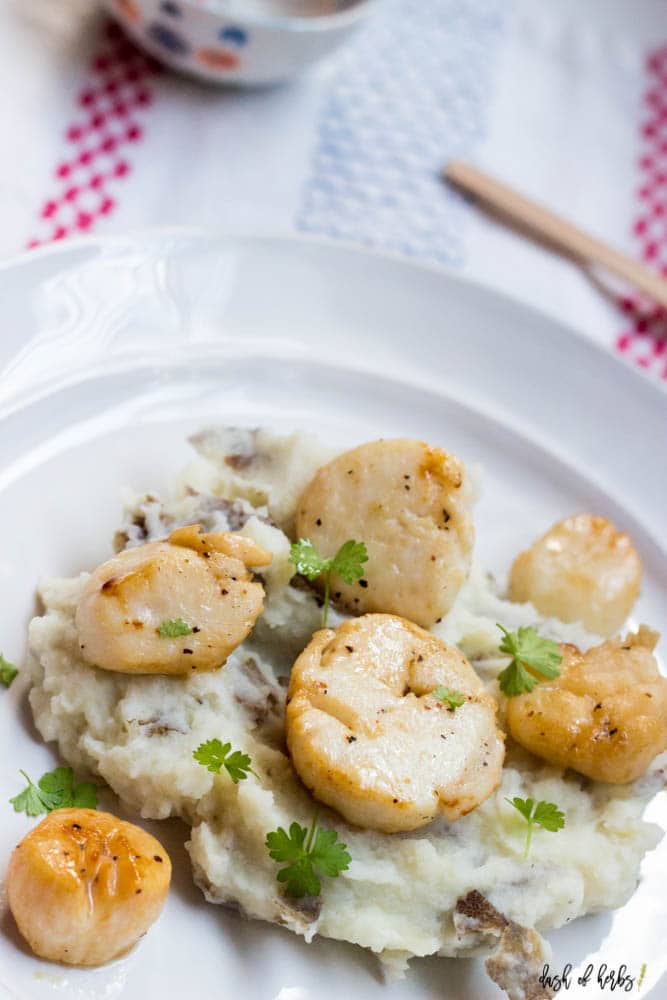 To be honest, I always think that seafood is difficult to make. And it's definitely not hard at all. Searing scallops is one of the easiest things you can do. Why?
Because you just heat the butter and let them cook. Turn them once and allow them to cook a bit longer. Boom. Delicious seafood for you and your family.
What puts this recipe over the top and makes it fabulous is the mashed potatoes. These are legit and so creamy. I loved how they turned out and they tasted amazing with the scallops.
I liked getting a little bit of the potatoes on my fork and then grabbing a scallop on the same fork.
A bite with both the buttery scallop and garlic mashed potatoes was a perfect combination. You won't be disappointed with this recipe.
What's your favorite seafood recipe?
Seared Scallops with Garlic Mashed Potatoes
This recipe is 7 Freestyle points per serving, about 4 scallops and 1 cup mashed potatoes.
Ingredients
1.5

lbs

scallops

4

Tablespoons

light butter

1

cups

onion

chopped

4

cups

potatoes

cubed (white or red)

1/2

cup

half-and-half

1

Tablespoon

olive oil

1

Tablespoon

garlic salt

or more if desired

2

cups

plain unsweetened Almond milk
Instructions
In a large pot, heat at least 8 cups of water to boiling. Once it's boiling, add the potatoes and cook until the potatoes are tender and cooked through, about 10 minutes.

Drain the water into a strainer. Using the same pot, add the drained potatoes back in and mash them. Add the garlic salt, garlic, Almond milk and half and half. Mix together and stir to make them soft.

Meanwhile, in a cast iron skillet, heat the avocado oil over medium heat. Once it's hot, add the onions and scallops to the skillet. Sprinkle them with salt and pepper. Saute these for 8-10 minutes turning until golden brown on both sides.

Serve 4 scallops with 1 cup of mashed potatoes.
Nutrition
Calories:
453
kcal
Carbohydrates:
40.4
g
Protein:
27.3
g
Fat:
20.4
g
Saturated Fat:
10.3
g
Cholesterol:
78
mg
Fiber:
5.6
g
Sugar:
5.5
g