Cooking fried rice is a quick and easy meal. And this Vietnamese fried rice recipe is both quick and delicious. I love how it brings out the flavors and culture of Vietnam in the dish.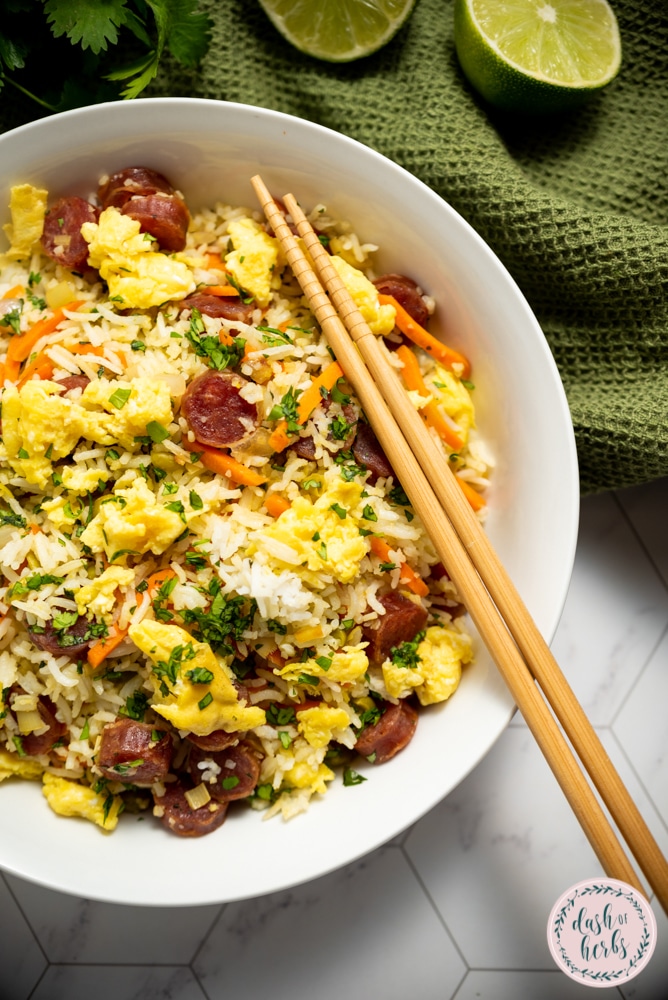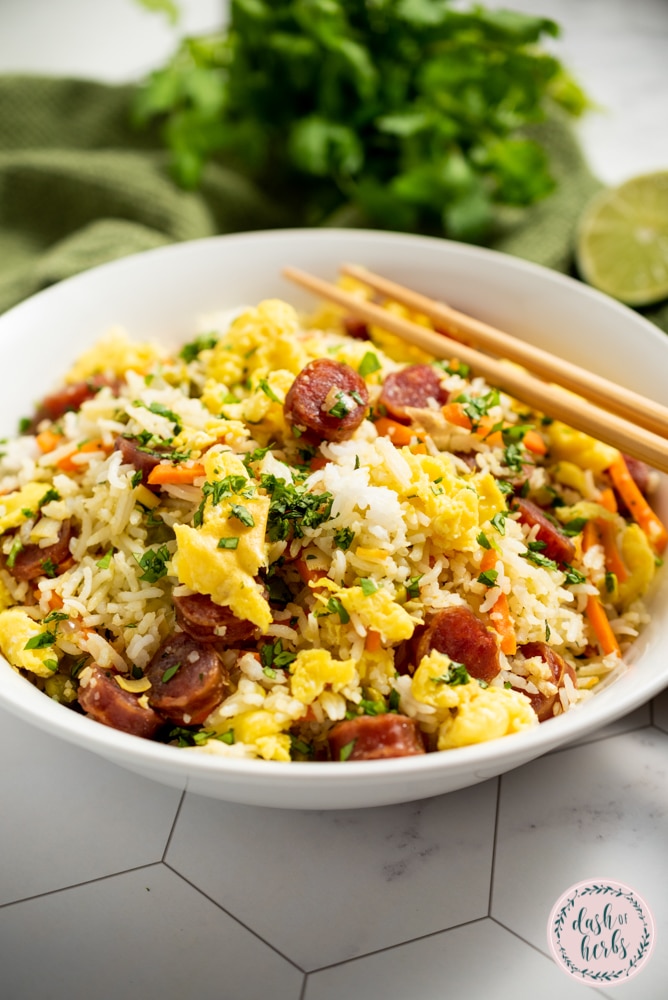 I love fried rice. I think it's delicious and it's great with chicken or shrimp. But I wanted to try something new and different. So I created this recipe for Vietnamese fried rice.
I have never used Chinese sausages before, but I wanted to come up with a way to try something new. I love Thai food, so why not try to make a fried rice with Thai flavors?
The Chinese sausages were a perfect compliment to this dish.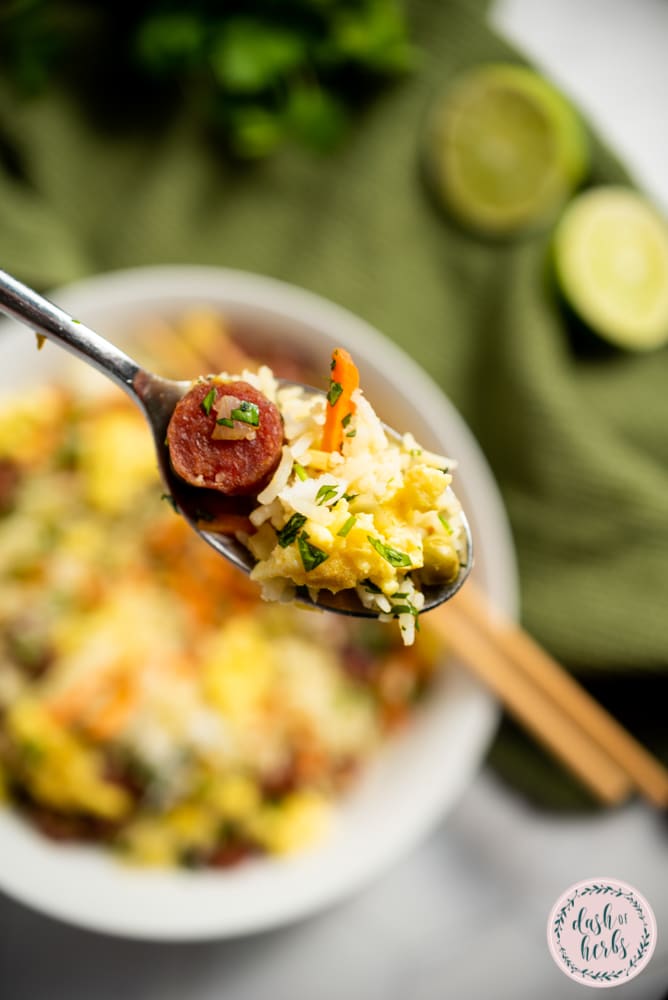 FAQs about this recipe
Where can I find Chinese sausages?
Chinese sausages can be found in any Asian food market. If you don't have one if your area, you could order them from Amazon Fresh.
How many calories are in fried rice?
There are about 228 calories per 1 cup of fried rice. That does not include any additional meats, however. That is because meats increase the protein and fat levels of any dish, including fried rice.

This recipe is 323 calories per 1 cup.
Is fried rice gluten free?
No, fried rice is not gluten free. Fried rice typically includes soy sauce, which has gluten in it. If you need a fried rice recipe to be gluten free, I suggest using tamari instead of soy sauce.

White rice and plain brown rice are both naturally gluten free, however.

Since this recipe is Vietnamese Fried Rice, it does not include soy sauce, and can be considered gluten free.
What is the difference between Vietnamese fried rice & Chinese fried rice?
The main difference between the 2 types of fried rice is how they are seasoned. Vietnamese fried rice uses fish oil or fish sauce as the main seasoning, while Chinese fried rice typically uses soy sauce.

The flavors are also milder for Vietnamese fried rice due to the seasonings.
What type of rice is eaten in Vietnam?
Rice is a staple ingredient in Vietnam and typically one of the first foods a child learns to make. It is served at almost every meal, so it's important to the Vietnamese culture.

Jasmine rice (or sticky rice) is one of the most common types of rice used in Vietnam. Another common version of rice is called paddy or lowland rice.
Serving Suggestions
A serving size of this Vietnamese fried rice is 1 cup. The calories and nutritional information in the recipe box below is for 1 serving.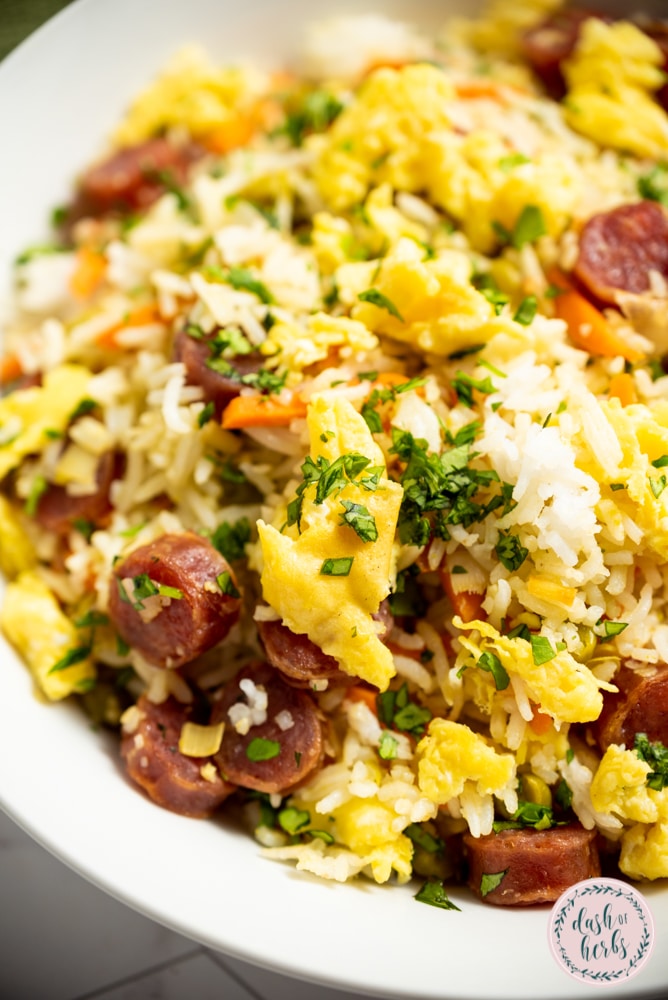 How to reheat fried rice
Reheating fried rice is easy. You can either reheat it in the microwave for 30 seconds to 1 minute 30 seconds, depending on how hot you enjoy your food.
You can also reheat fried rice in a wok. Heat the wok to medium-high heat. Once it's at temperature, add the leftovers into the wok. Warm and stir for a couple of minutes, until the fried rice is reheated to your liking.
What are your favorite types of fried rice?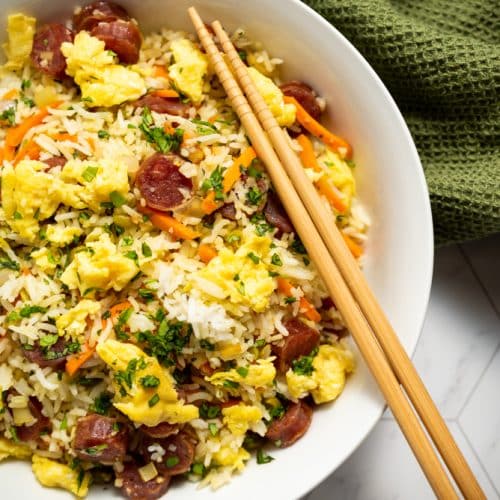 Vietnamese Fried Rice
Cooking fried rice is a quick and easy meal. And this Vietnamese fried rice recipe is both quick and delicious and packed with flavor.
Ingredients
1.5

cups

basmati rice

1

package

Chinese sausages

sliced

2

large

eggs

beaten

3

stalks

shallots

diced

2

medium

carrots

shredded

3/4

cup

peas

fresh or frozen

5

cloves

garlic

1

stalk

lemon grass

finely chopped

1/4

cup

cilantro

finely chopped

1

large

lime

juiced

4

Tablespoon

fish sauce

divided

3

Tablespoon

sesame oil
Instructions
Start by preparing all your ingredients. Chop, slice and dice your ingredients.

Rinse your rice 3-5 times and then add 3 cups of water, bring to a boil, then reduce the heat to low and let it cook for 14minutes with a lid.

In the empty wok, add a new tablespoon of oil over medium/high heat and sauté your garlic, lemongrass, and onions, for about4-5 minutes or until fragrant.

Add your oil to a wok and heat up to medium/high heat. Pour in the beaten egg and add 1 Tablespoon of fish sauce to the beaten egg. Scramble the eggs for about 2-3 minutes, until cooked. Transfer to a plate and set aside.

Add the shredded carrots and peas and stir fry for about 2-3 minutes. Make sure to keep stirring the ingredients, so they don't burn.

Add your sliced Chinese sausages, stir for about3-4 more minutes, and add your cooked basmati rice and fish sauce, make sure to mix in well with all ingredients.

Once the rice is lightly fried, take the wok off the heat.

Go back to the scrambled egg and cut in thin slices. Garnish over your fried rice. Serve while hot and enjoy!
Nutrition
Calories:
323
kcal
Carbohydrates:
46
g
Protein:
11
g
Fat:
11
g
Saturated Fat:
2
g
Polyunsaturated Fat:
3
g
Monounsaturated Fat:
3
g
Trans Fat:
1
g
Cholesterol:
68
mg
Sodium:
1097
mg
Potassium:
265
mg
Fiber:
3
g
Sugar:
4
g
Vitamin A:
3678
IU
Vitamin C:
13
mg
Calcium:
49
mg
Iron:
2
mg