Have you thought about getting an Instant Pot, but you aren't sure if it's a good investment? This post is for you! I break down all the possible consideration you could think of while you are wondering about making this decision.
Firstly, What Is An Instant Pot?
When I was growing up, pressure cookers were scary looking stove top appliances that let off a shrieking whistle sound when the pot reached pressure. Today instant pots are multi-functional electric pressure cookers that have gained immense popularity in recent years. Most combine the functions of a pressure cooker, slow cooker, rice cooker, steamer, sauté pan, yogurt maker, and warmer in one versatile appliance, so they have become an essential kitchen companion for both seasoned chefs and amateur cooks.
Since the pressure cooker cooks the food at pressure, it cuts down on cooking times.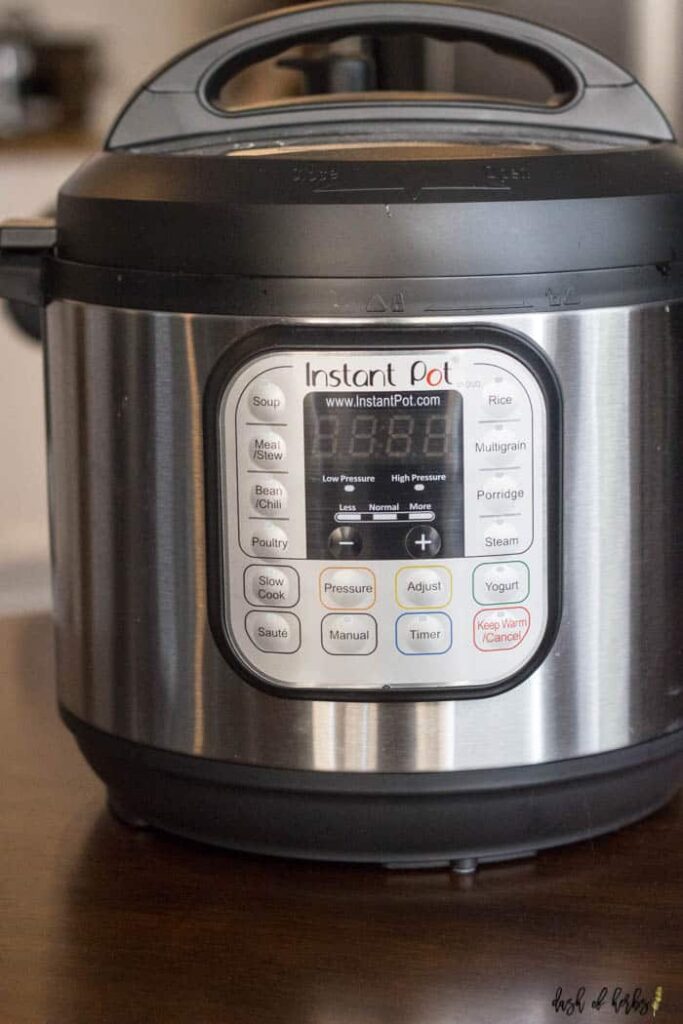 What Are The Benefits?
ONE POT – The Instant Pot allows you to brown your food in the same pot that you will use to pressure cook it. It makes cooking different things so easy because of this.
EASY TO USE – Once you learn the basics of the Instant Pot, it is incredibly easy to use. I absolutely love how easy it is to make almost anything.
INEXPENSIVE – I personally think that the Instant Pot is an inexpensive kitchen appliance. Why? Because you can cook so many things different things in it, and it really as been well used in my house.
ADD ONS – Did you know that you can buy an air fryer top for your Instant Pot? It's life changing to be able to have 2 kitchen appliances in one. The air fryer top is amazing and makes it easy to make so many more dishes.
EASY TO CLEAN – I love how easy this is to clean. The inner pot just comes right out and can be cleaned so easily. I have had my Instant Pot for 6 years, and I have never had to replace the inner pot. It cleans up so quickly and easily.
COOKING TIMES – The Instant Pot drastically cuts down on cooking times. A roast, that would take several hours in the oven can be cooked in 60 minutes.
SAFE – I have used traditional pressure cookers before and they scared me. So much that I only used it once or twice and gave up. Then came along the Instant Pot, and my whole world changed. I love how safe this is (as long as you read the instruction manual) and how confident I am using it.
There is something about the Instant Pot that just makes sense. Maybe it's the fact that it's a one-pot kitchen appliance? Maybe it's that you can sear meat or cook onions and garlic in it before you add other ingredients.
Maybe it's because it cooks foods so much quicker than the stovetop or oven? I'm not really sure, but I love my Instant Pot and highly recommend it to anyone who asks.
Disadvantages Of An Instant Pot
For someone as sold on the instant pot as I am, I really don't think that anything you would consider a disadvantage to owning an instant pot is too difficult to overcome. I do however see that a beginner might find the instant pot a little bit intimidating at first, but with a bit of perseverance it's actually quite easy to the hang of using it. Here are some (very slightly negative in my opinion) reasons you might be hesitant about getting one;
Learning Curve: Instant Pots may have a slight learning curve, especially for those who are new to pressure cooking. Understanding the functions, cooking times, and proper use of the appliance may require some initial research and experimentation.
Cost: Instant Pots are generally more expensive compared to traditional cookware or individual appliances. The initial investment may be higher, particularly for models with advanced features and larger capacities.
Limited Browning and Crisping: While Instant Pots offer sautéing functions, they may not provide the same level of browning or crisping as traditional stovetop cooking methods. Achieving a golden crust or crispy texture on certain dishes may require additional steps or finishing touches.
Size and Storage: Instant Pots are designed to accommodate various cooking needs, which means they can be larger and bulkier than individual appliances. Limited counter or storage space may pose a challenge, particularly in smaller kitchens.
Cooking Time Variations: While Instant Pots are known for their speed, cooking times can still vary depending on factors such as the amount of food, type of ingredients, and recipe complexity. Adjustments and additional time may be needed depending on the dish.
Limited Ability To Check Progress of Your Dish: This for me is the most annoying part of using a pressure cooker. I like testing and seasoning my food as I go along and you can't just take a peak whilst its doing its thing!
Below, you can find some wonderful Instant Pot recipes. Most of these are lunch or dinner recipes, but there's a wide variety of foods to choose from.
Do You Have Any Other Questions About Getting An Instant Pot?