If you are in the need for a really quick dinner (and I mean really quick), this sweet chili shrimp tacos recipe is exactly what you need. You can get this cooked in about 15 minutes, which is great if you are pressed for time – aren't we all?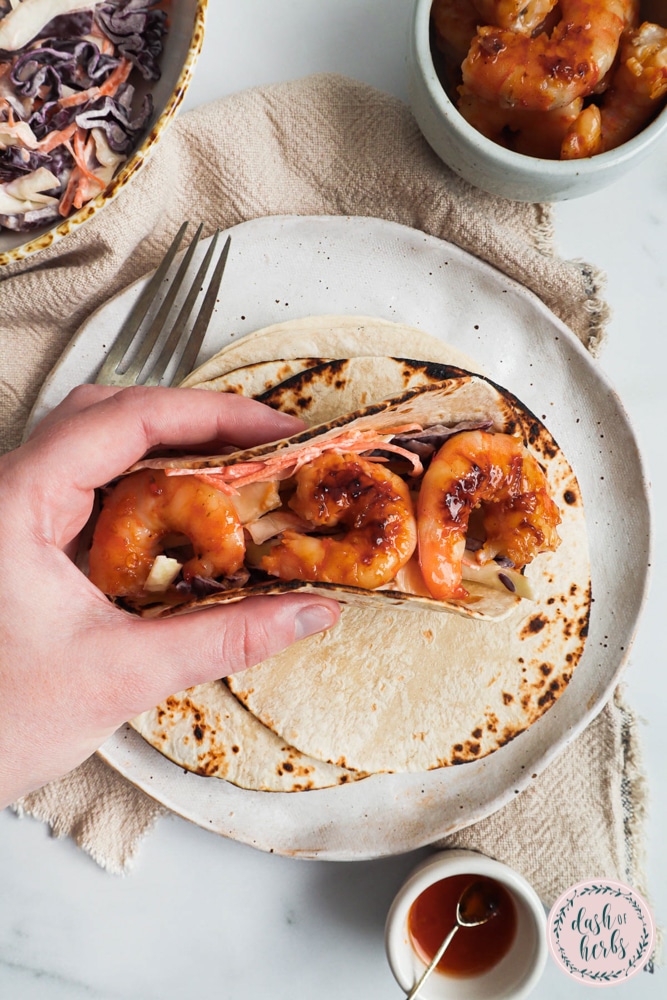 I have to admit that I love tacos. I really do – like these grilled fish tacos with pineapple salsa. And we were at our local watering hole recently and I tried their version of a sweet chili shrimp taco.
I loved it so much that I had to try my own version of it. But why try to create your own sweet chili sauce when you can buy it at the store?
Ingredients For Sweet Chili Tacos
FAQs
Can I use fresh shrimp?
Yes! You are welcome to use fresh shrimp, if that is easier for you. Just make sure to devein them and remove their tails.
How can I thaw frozen shrimp?
To thaw frozen shrimp, put the bag in bowl of cold water. Let them sit for 5-10 minutes. Then do it again with another batch of cold water until the shrimp has thawed.
Should I use corn or flour tortillas with shrimp tacos?
Either option would work just fine. I think the tacos taste better with corn tortillas, but flour works well too.
What is the difference between corn and flour tortillas?
Corn tortillas are seen as more authentic and are produced from corn. Flour tortillas are more easily accessible, and are produced from wheat flour.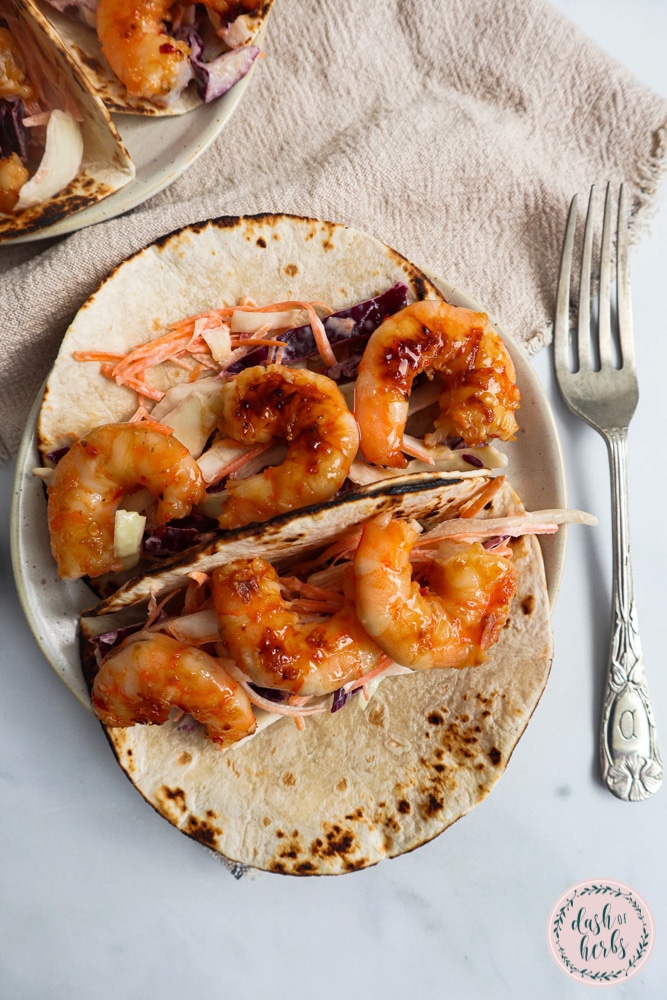 I know that it would be healthier if you made it yourself, but we don't have time for that. I totally understand that because I am the same way. I need the quick and easy meals.
I'm not going to spend an hour in the kitchen if I can help it. And so, I bring you a really quick and easy taco recipe.
I really loved how the shrimp tasted with the sweet chili sauce on it. I wasn't sure if it would meld into the shrimp like I was wanting it to, but these tacos were everything I wanted.
If you are interested in other fish recipes, try these delicious recipes. They are all easy to make too, which is a plus in my book.
Marinating the shrimp with the sweet chili sauce really added to the flavor of this meal.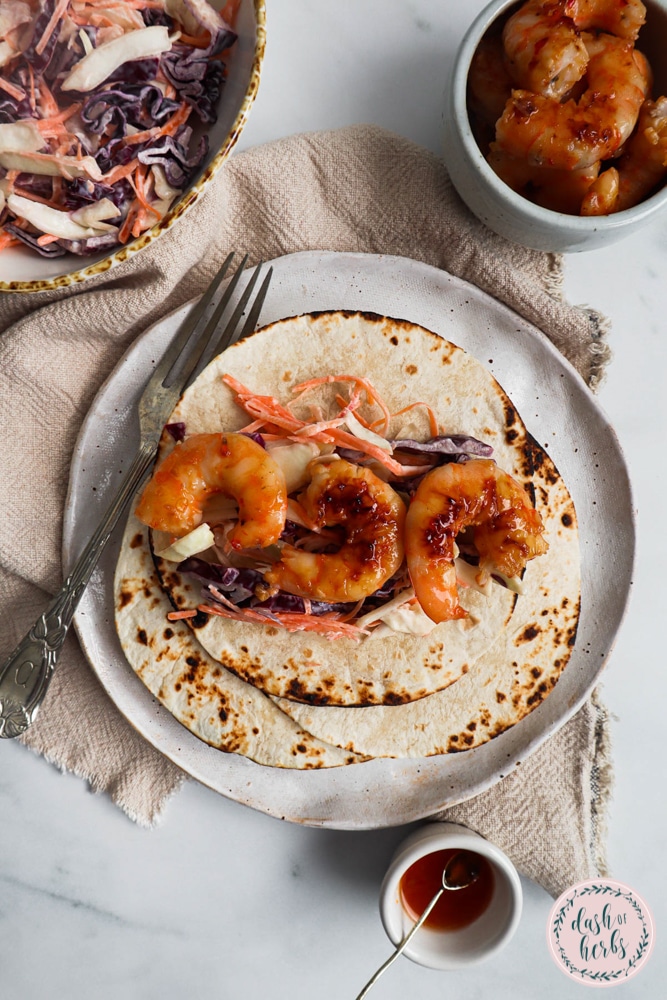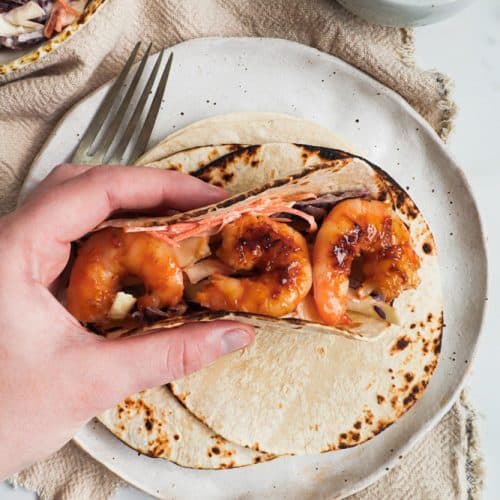 Quick and Easy Sweet Chili Shrimp Tacos
This recipe is 3 SmartPoints per serving, 1 taco.
Ingredients
1

lb

large shrimp

frozen, peeled and deveined, tails off

6

Tablespoons

Sweet Chili Sauce

1/2

package of coleslaw mix

8

taco shells

hard or soft shell is fine
Instructions
Once the shrimp has been thawed, drain it and add it to a large Ziplock bag. Pour in the sweet chili sauce. Make sure to cover all the shrimp with the sauce and place in the refrigerator for about 30 minutes.

In a non-stick skillet, heat 1 spray of olive oil. Add the shrimp and remaining sweet chili sauce and cook until the shrimp turns pink, about 5-7 minutes.

While the shrimp is cooking, get the coleslaw out and prepared, and heat up the shells you are using.

Once the shrimp is done cooking, add about 6 shrimps to each taco, and some coleslaw either on the top or bottom of the shrimp. Serve immediately.
Nutrition
Calories:
127
kcal
Carbohydrates:
16.7
g
Protein:
10.3
g
Fat:
1.6
g
Cholesterol:
71.1
mg
Sodium:
510.3
mg
Sugar:
2.7
g
Vitamin A:
200
IU
Vitamin C:
4.1
mg